---
DOES TIME OF DAY MATTER FOR COLONOSCOPY QUALITY? A REVIEW OF OVER 13,000 SCREENING COLONOSCOPIES IN A COLORECTAL SURGERY UNIT
I Sapci, X Jia, J Wu, E Gorgun, D Liska, J Church, SR Steele, MA Valente
Cleveland Clinic Foundation
Background
There exists conflicting data in the literature with regard to adequate adenoma detection rate (ADR) as well as other quality metrics during colonoscopy based on the time of day the procedure is performed. The aim of this study was to investigate the effect of time of day on quality metrics in patients undergoing screening colonoscopy by colorectal surgeons. We hypothesized that afternoon colonoscopies have worse bowel preparations and lower adenoma detection rates.

Methods
Screening colonoscopies performed between January 2010 and September 2018 by twenty-eight colorectal surgeons were queried from a prospectively maintained database. Quality parameters examined were adenoma detection rate (ADR), gender-specific ADR, examination time, cecal intubation rate, withdrawal time, bowel preparation quality, and intra-procedural complications. Bowel preparations were completed according to our institutional protocol which is to give patients polyethylene glycol split-dose for morning colonoscopies and split-dose or single morning dose for afternoon colonoscopies. Colonoscopies were compared between morning (07:30-11:59 AM) and afternoon (12:00-17:00 PM) groups. Univariate analyses were conducted and Pearsonís chi-square or Fisherís exact test was used.

Results
There were 13,809 endoscopic screening examinations performed in asymptomatic patients older than 45 years. Patients had a mean age of 59.8 years, and 48.5% were female. A total of 8,868(64%) of the scopes were performed in the morning and 4,941 (36%) were performed in the afternoon. Median endoscopist volume was 189 [54, 701] and included surgeons who performed both afternoon and morning colonoscopies. There was no difference in both ADR and bowel preparation quality between the two groups. Additionally, cecal intubation rate, withdrawal time, and polypectomy rates were comparable. Both groups exceeded all national quality benchmarks, with the morning group having significantly shorter examination times.

Conclusion
In our practice, colonoscopies meet and exceed all national quality benchmarks, independent of the time of day they are performed.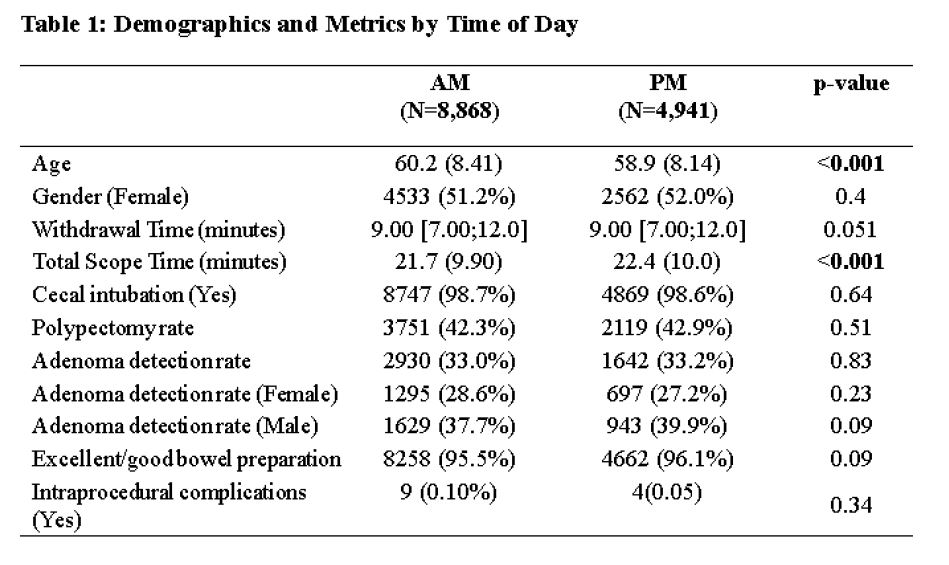 ---
Back to 2021 Abstracts