---
Resectable Intrahepatic And Hilar Cholangiocarcinoma: Is Margin Status Associated With Survival?
*Michael J Littau, Jr.
1
, *Preston Kim
1
, *Sujay Kulshrestha
2
, *Corinne Bunn
2
, *Celsa Tonelli
2
, *Zaid M Abdelsattar
2
, Fred A Luchette
2
, Marshall S Baker
2
1
Stritch School of Medicine, Loyola University - Chicago, Maywood, IL;
2
Department of Surgery, Loyola University Medical Center, Maywood, IL
OBJECTIVE(S): Attaining histologically negative (R0) margins in intrahepatic (ICC) and extrahepatic/hilar (ECC) cholangiocarcinoma often requires extended hepatectomy with potential for increased morbidity and delay to adjuvant therapy. Prior studies on the effect of margin status in these cases have primarily been institutional series including small numbers of patients with histologically positive (R1) margins. The importance of margin negative resection remains unclear.
METHODS: We queried the National Cancer Database to identify patients undergoing surgical resection for clinical stage I to III cholangiocarcinoma between 2004 and 2015. Patients with periampullary tumors, those receiving neoadjuvant therapy, those having fewer than 3 lymph nodes assessed, and those undergoing resection to macroscopic (R2) residual disease were excluded. Patients undergoing R0 resection were 1:1 propensity matched to those undergoing R1 resection for age, demographics, comorbid disease, surgical approach, tumor size, grade, pathologic stage, tumor location (intrahepatic vs hilar/extrahepatic), and adjuvant therapy. Overall survival (OS) for the matched cohorts was compared using Kaplan Meier (KM) method.
RESULTS: 4,306 patients met inclusion criteria. 3,522 (81.8%) had ECC; 583 (18.2%) had ICC. 3,602 underwent R0 resection; 704 R1 resection. On univariate comparison prior to matching, patients undergoing R0 resection were less likely to be under-insured (6.3% vs 9.4%), more likely to undergo a radical resection (40.3% vs 35.5%), had smaller tumors (2.95 +/- 0.06cm vs 3.44 +/- 0.13cm), and were less likely to receive adjuvant radiation (24.4% vs 43.3%) and chemotherapy (44.4% vs 57.7%) than those undergoing R1 resection (all p<0.05). 704 R1 resections were successfully matched to 704 R0 resections. On KM comparison of matched cohorts (Figure 1), patients undergoing R0 resection demonstrated longer median OS (25.43 +/- 0.02 vs 19.15 +/- 0.02 months, p<0.0001) and higher rates of 5-year OS (26.9% vs 16.2%, p<0.0001) than those undergoing R1 resection.
CONCLUSIONS: In patients presenting with resectable cholangiocarcinoma, R0 resection is associated with a significant improvement in OS. Extended hepatectomy to clear surgical margins is warranted in patients fit for such procedures.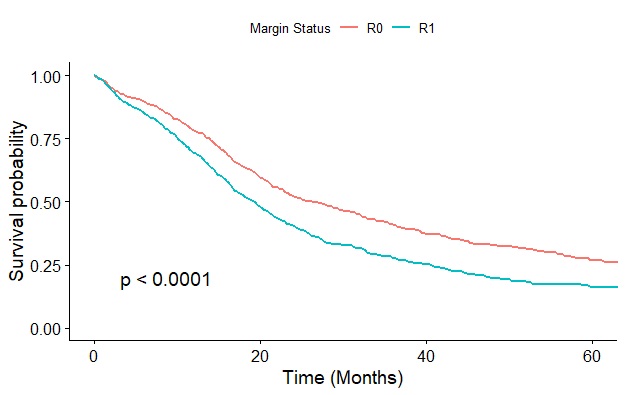 ---
Back to 2021 Abstracts