---
Contemporary Management Of Carotid Body Tumors In A Midwestern Academic Center
*Brian D Wernick, *Courtney L Furlough, *Urjeet Patel, *Heron Rodriguez, *Andrew Hoel, *Tadaki Tomita, *Sandeep Samant, Mark K Eskandari
Northwestern University, Chicago, IL
Objective: Carotid body tumors (CBT) are rare, neurogenic tumors arising from the periadventitial chemoreceptive tissue of the carotid body and are frequently associated with living at high elevation. Surgical resection is the mainstay of treatment. The purpose of this study is to ascertain the presentation and preoperative risk factors associated with surgical resection.
Methods: Single-center retrospective review of 27 CBT resections from 2005-2019. Demographics, periprocedural details, and post-operative outcomes were analyzed using Stata.
Results: Among the 27 patients 63% were women, 83% were asymptomatic, and the mean age was 50 years (range 21-79). None of the tumors were hormonally active, mean size was 3.2 centimeters (range 1.6 - 5.0 cm), and the Shamblin class distribution was: 9% type I, 48% type II, and 43% type III. Men were found to have significantly larger tumors on presentation (4.1 cm vs 2.8 cm, p=0.001), though this did not correlate to an increased complication rate. Preoperative embolization was performed in 8 patients, which did not correlate with tumor size. All tumors were completely resected with a mean estimated blood loss of 217 mL (range 5 – 1000 mL) and no evidence of metastatic disease. The 30-day death, stroke, and cranial nerve injury rates were 0%, 9%, and 27%, respectively. Cranial nerve injuries included 18% vagus, 4.5% hypoglossal, 4.5% facial, and 4.5% glossopharyngeal, but no permanent injuries. Mean length of stay was 2.7 days (range 1-7 days). At a mean follow-up of 12 months (range 1-63 months), there have been no recurrence.
Conclusion: Although CBTs are uncommon in the Midwest, complete surgical resection is curative of these typically hormonally inactive tumors. As expected, larger tumors are associated with increased perioperative complications, however the incidence of death, stroke, and permanent cranial nerve injury rates remain very low.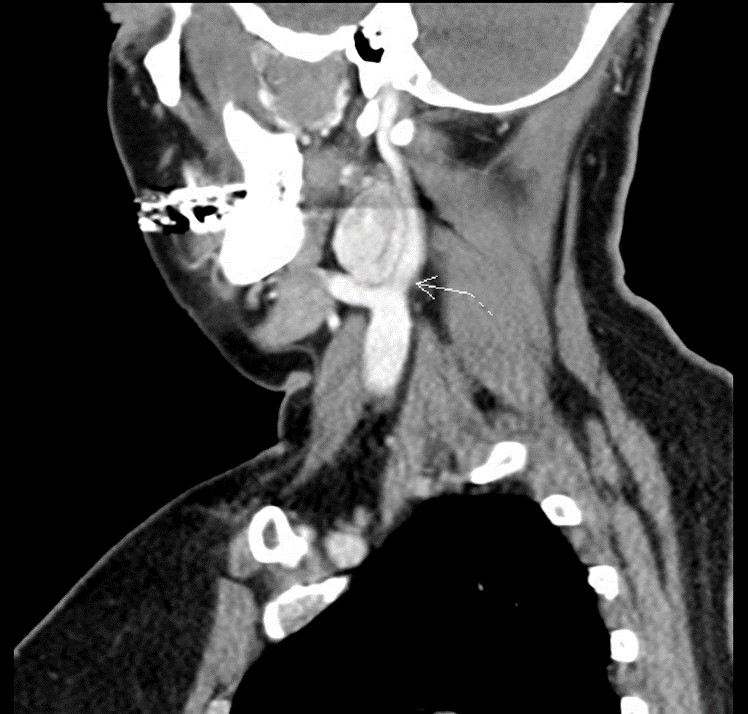 ---
Back to 2020 Abstracts